10 Growth Marketing Tools You Need to Grow Your Business
Growth marketing professionals thrive in experimental and data-driven culture. They test out different tools to discover opportunities to be more efficient and deliver real results. But how do you know which tools are worth your time? We've put together the 10 best growth marketing tools you need to stay ahead of your competition.
1. Zapier
Marketing Automation is vital for growth marketers as it helps you become so much more productive.
Zapier helps you connect more than 1,000 marketing tools as well as growth marketing tools to each other to automate repetitive tasks, so you can focus on other work. You don't even have to learn how to code or ask developers to build the integration.
For example, "With Zoom's New Recording trigger, available as part of Zoom's integration with Zapier, you can automatically upload new recording files to other apps, such as YouTube or Google Drive.
In this way, whenever you finish recording a Zoom meeting, the recording will automatically upload to Google Drive." (Zapier)
2. Hubspot's Free Email Marketing Tool
You can use HubSpot's email marketing tool to grow your business for free. It helps you create professional marketing emails and grow your audience with the easy drag-and-drop email builder.
Also, you can use the HubSpot CRM to create tailored touch-points for your customers. As HubSpot email is connected with the HubSpot CRM, you can customize relevant emails based on any details you have — such as form submissions and website activity.
The tool also comes with email reporting analytics, so you can learn how to send more relevant and personalized emails to your audience.
3. GrowthBar
Growth marketing teams need to have a content marketing strategy with SEO in mind. 
GrowthBar is an SEO Chrome Extension that makes your content more SEO-friendly. As you make a search in Google, GrowthBar automatically shows you the keyword difficulty, similar keywords and other important SEO statistics. 
You can also use other alternatives such as Ahrefs toolbar and Moz's MozBar.
4. Unbounce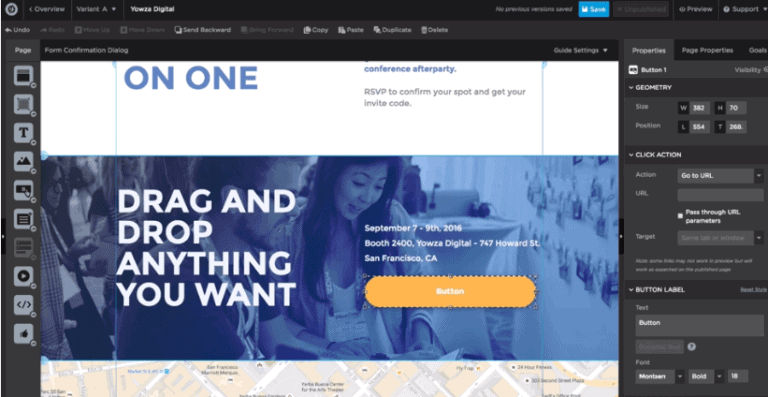 Unbounce is an amazing tool for building landing pages. You can build, publish and A/B test landing pages without getting support from technical teams. Even if you don't know much about design, you can use some of the available templates and tweak them as you like.
You can also create a form with no technical knowledge or HTML.
5. Visual Website Optimizer (VWO)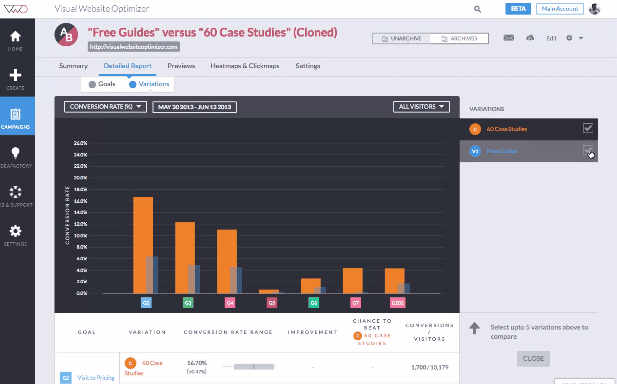 Visual Website Optimizer allows you to easily tweak the elements of your pages such as headlines and images to generate different versions of your website. You can quickly see which version is the best when it comes to conversions. Set a conversion goal for each A/B test so that you know which version gets the best results for your marketing campaigns.
6. Hotjar
Hotjar is a heatmapping tool. It offers a real-time visual record of your visitors' behaviors on-site.
With heatmaps, you get insights on where people are clicking and see the video recording of the visitor's journey.
"Recordings show you when users bounce, exit, and drop-off, helping you understand why your site is underperforming." (Hotjar)
7. Hootsuite
Hootsuite is a social media management system. It helps you manage all your social media channels from one place. Once you've connected your social networks to your Hootsuite account, you can schedule your social media posts for future dates. Also, you can monitor what people are saying about your brand and respond quickly.
8. Viral Loops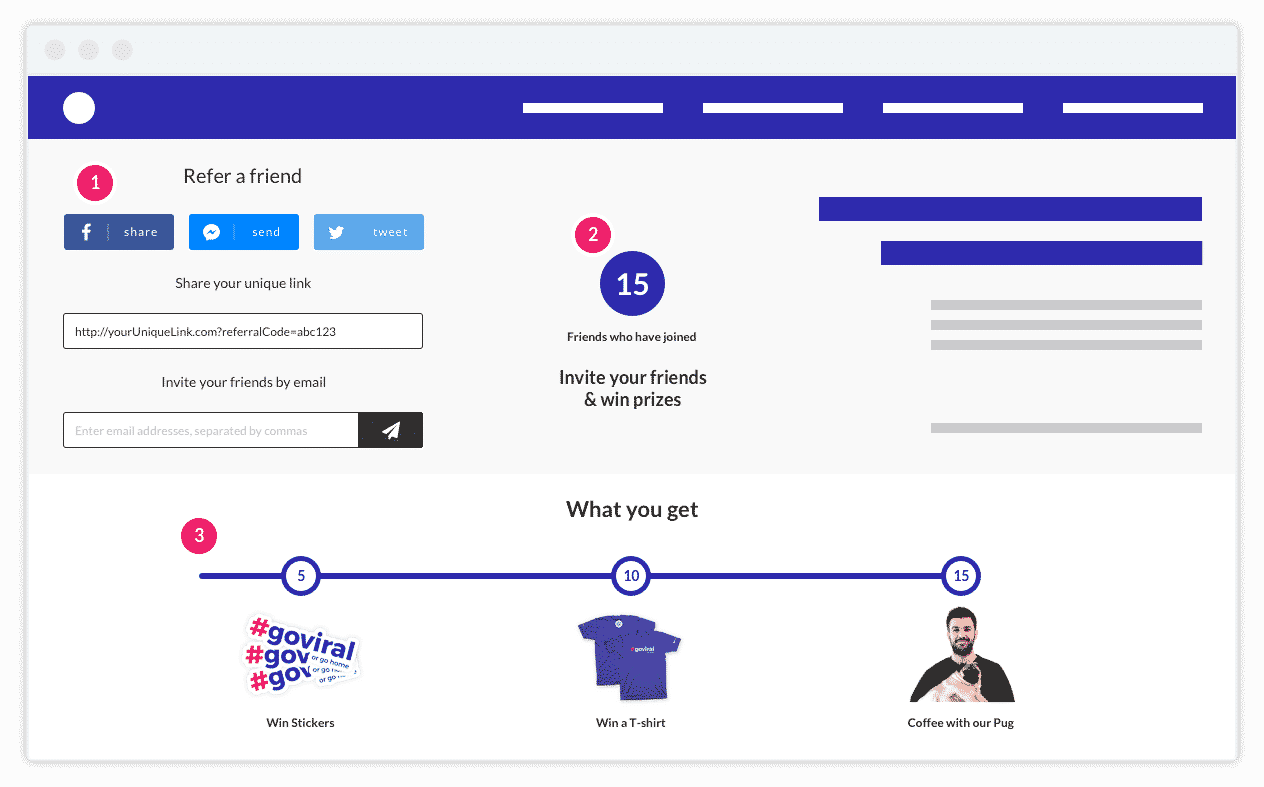 Referral programs are crucial for growth. Your current customers act as brand ambassadors and bring their friends as new users. Viral Loops allows you to set up your own referral program tailored to your needs. They offer a plethora of templates inspired by great companies, like Dropbox, Airbnb and Mailchimp.
9. Zendesk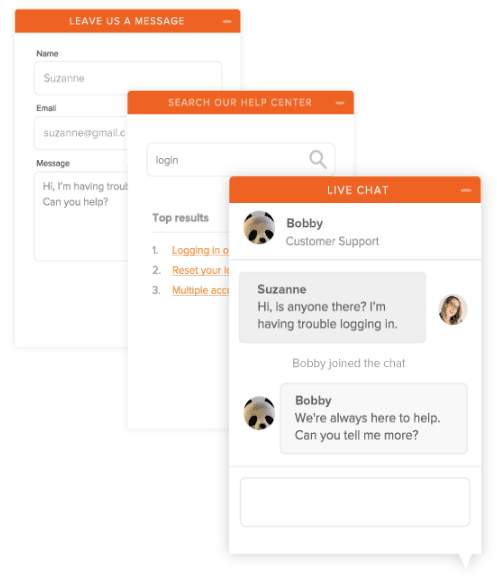 Zendesk is a customer support software with easy implementation and powerful reporting tools. The platform gathers all of your communication channels into one place. In this way, you can easily respond to your emails, phone calls, and chats.
Zendesk says on their website, "The main difference between service today and service 10 years ago is that customers expect premium service to be built-in from the first sales or marketing interaction and carry through to the moment they ask for help, post-purchase, and back again."
10. Optimizely
Optimizely is an experimentation platform used for building and running A/B tests. You can use it in order to achieve validation for conversion rate optimization efforts.
"Optimizely combines tools for visual creation and robust targeting into its platform, making it easy to quickly create and target tests to the proper groups of users." (Sprout Social)
Conclusion
Growth marketing is about trying to find ways of maximizing opportunities at every stage of the funnel. Successful growth marketers stay alert and keep a pulse on the evolving nature of how consumers interact with brands.
Relying on the right growth marketing tools will help you save yourself time and money, resulting in higher revenue and growth.
At Response DGA, we create a digital growth marketing strategy that is not only innovative and market-leading but, most importantly, delivers commercial success. Would you like to discuss a full-funnel digital growth campaign?