How to Improve Lead Nurturing with Marketing Automation
Lead nurturing is the process of developing relationships with buyers through each step of the buyer's journey. Lead nurturing is the key part of the sales cycle. However, without marketing automation, you won't be able to nurture leads effectively.
"On average, 50% of the leads in any system are not yet ready to buy (Marketo)."
Marketing automation helps align all of your marketing efforts and messages. It makes sure that each lead receives the most relevant message at the right time. Automating lead nurturing enables the systematic tracking of lead engagements with your content.
You can understand at which stage your lead is on the sales cycle. Marketing automation can help you send targeted messages whenever they are needed.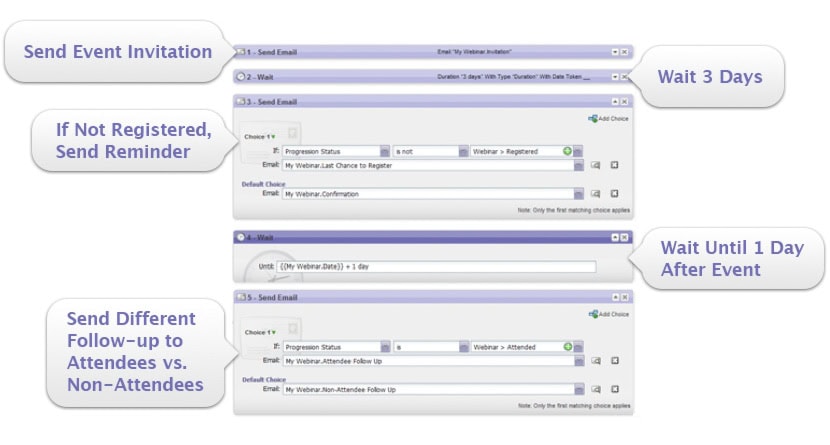 One of the main reasons for unsubscribing from email lists is getting too many emails. You can lose potential customers by sending out too many irrelevant emails. You need to reach out to leads less often but in more effective ways. Everything you send should provide value for your leads.
This article will show you how you can improve your lead nurturing efforts with marketing automation software.
Segmentation
It would be best if you had segmentation to send targeted and relevant emails to your leads. It is hard to do it manually. That's where the automation tool comes in.
You can use a marketing automation tool to bring together all the information you have on leads in one place. In this way, you can create a buyer persona.
You can segment your leads based on demographics, buyer's journey stage, website behavior, or any other event where a specific action triggers planned emails. With segmentation, emails can be drip-fed to designated contact lists, delivering relevant content at the right time.
Lead scoring
"61% of marketers say that generating traffic and leads is their biggest challenge. Lead nurturing helps companies to identify quality leads and make smaller numbers of leads go farther." (G2)
It would be best if you had lead scoring to determine when nurtured leads are qualified and ready to be passed over to sales. For example, you can rank prospects based on clicking on a nurturing email, registering for webinars, or requesting product demos. 
Marketing automation allows you to locate exactly where a lead is in the sales cycle. As your contact lists are constantly updated, you can send targeted and personalized content to your leads. In this way, you can move them smoothly through the sales funnel. When they reach a designated threshold point, which means they are sales-ready, you can pass them to sales.
Nurturing
You can choose to lose your customers by sending out generic content. Or you can create personalized messaging based on customer behaviors and demographics.
"Marketers must tailor content to buyers in every stage of the funnel, rather than blindly distributing content to the masses. Marketing automation nurtures specific customer personas with targeted, meaningful content that helps you turn prospects into customers and customers into fans." (Marketo)
Every lead goes through awareness, consideration, and decision stages before clicking on the "buy now" button. And the content you need to send for each stage is different. Most people are not ready to buy at the awareness stage and probably never heard of your company.
Your goal is to attract their attention, offer the best answer for their queries and then gently introduce them to your brand. At this point, you can send top-level educational content to help direct them to a solution, like blog posts, ebooks, and other educational content.
The consideration stage is a great opportunity to make sure your leads differentiate you from your competitors. At this stage, people look for case studies, demo videos, and product-oriented content.
The content for the decision stage can be testimonials, reviews, and clear descriptions of your products that show the unique value they provide to customers. You need to build trust and accelerate the purchase.
When you send the right content to the right audience at the right time, it will successfully create a conversion for your business. 
Lastly, you need to have a multi-channel marketing approach to connect with your leads. Marketing automation helps you identify where your leads are most active and connect with them through social media, email, notifications, etc.
Conclusion
Marketing automation is vital for designing the process of nurturing leads. From lead scoring to tracking customer behaviors and managing email marketing campaigns, the value of marketing automation can't be denied.
At Response DGA, we create a digital growth marketing strategy that is not only innovative and market-leading but, most importantly, delivers commercial success. Would you like to discuss a full-funnel digital growth campaign?