9 Effective SEO Strategies to Drive Traffic in 2021
Hubspot defines SEO strategy as "the process you follow in order to maximize the opportunity to gain organic traffic from search engines."
Having an SEO strategy is crucial. Instead of only creating what you think people are looking for, you will make sure to create content that people are searching for. SEO-friendly content helps search engines understand what search queries it responds to and what people can learn from your content.
SEMrush surveyed 1,500 marketers about the biggest content marketing challenges they face today. Creating content that attracts traffic comes second in the top content challenges. The survey shows that marketers need to create valuable content for their readers with SEO in mind.
Before you start making technical optimizations, focus on the value of your content. The better Google becomes, the more important it becomes to focus on your readers and to deliver what they're looking for. You need to create helpful, engaging, and interesting content that inspires people to spend time on your page and share with others.
Google prioritizes E-A-T (Expertise, Authoritativeness, and Trustworthiness) in their rankings. With this article, we will help you create an effective SEO strategy, increase your traffic and become authority according to Google.
9 Effective SEO Strategies to Drive Traffic In 2021
1. Targeting the right keywords
Using keywords is not just about SEO; they also help you understand your audience's interests.
What are your customers searching for? How much traffic can those terms bring you? How difficult can it be to rank for them? You will get answers to these questions by doing keyword research. 
You need to choose one primary keyword for one article. There can be 5-10 additional keywords. Your primary keyword should be the main focus of your article.
You can use Moz Keyword Explorer, SEMrush Keyword Magic tool, Ahrefs Keyword Explorer, and Google Trends.
Don't forget to align your content with search intent. The easiest way to determine search intent is to look for similarities among the current top-ranking pages for your target keyword.
2. Optimize your title tag
You should write a compelling title tag as it shows up in the search results.
Although the H1 tag is an important factor showing search engines how the page is structured, the meta title is even more important for SEO purposes.
The meta title is the first thing your audience sees in SERP (Search Engine Result Page). They decide to click based on the information you give in the meta title. That's why it's vital to make it as compelling as possible. 
3. Make your content readable
Let's say you open a page in Google results and see a long-form text without any table of contents, highlights, or visuals whatsoever. Either you use Ctrl+F to find out what you are looking for or just leave the page to find a better article. When you leave the page, the bounce rate will increase. This is not good for the website ranking. 
Long content typically ranks better. Many SEO experts say that comprehensive content performs best in Google. When the article is long, you can add a table of contents at the beginning to let the readers go to the specific section they are looking for.
Also, highlighting the main ideas makes the text easier to follow and stays longer in readers' minds.  
4. Optimize images
You can use infographics, GIFs, charts, and other types of visual content to capture attention and deliver value to your audience faster. As images can rank in Google Images, they also send traffic to your website. 
Don't forget to use descriptive alt text. Alt text provides better image context to search engine crawlers and helps them index an image properly.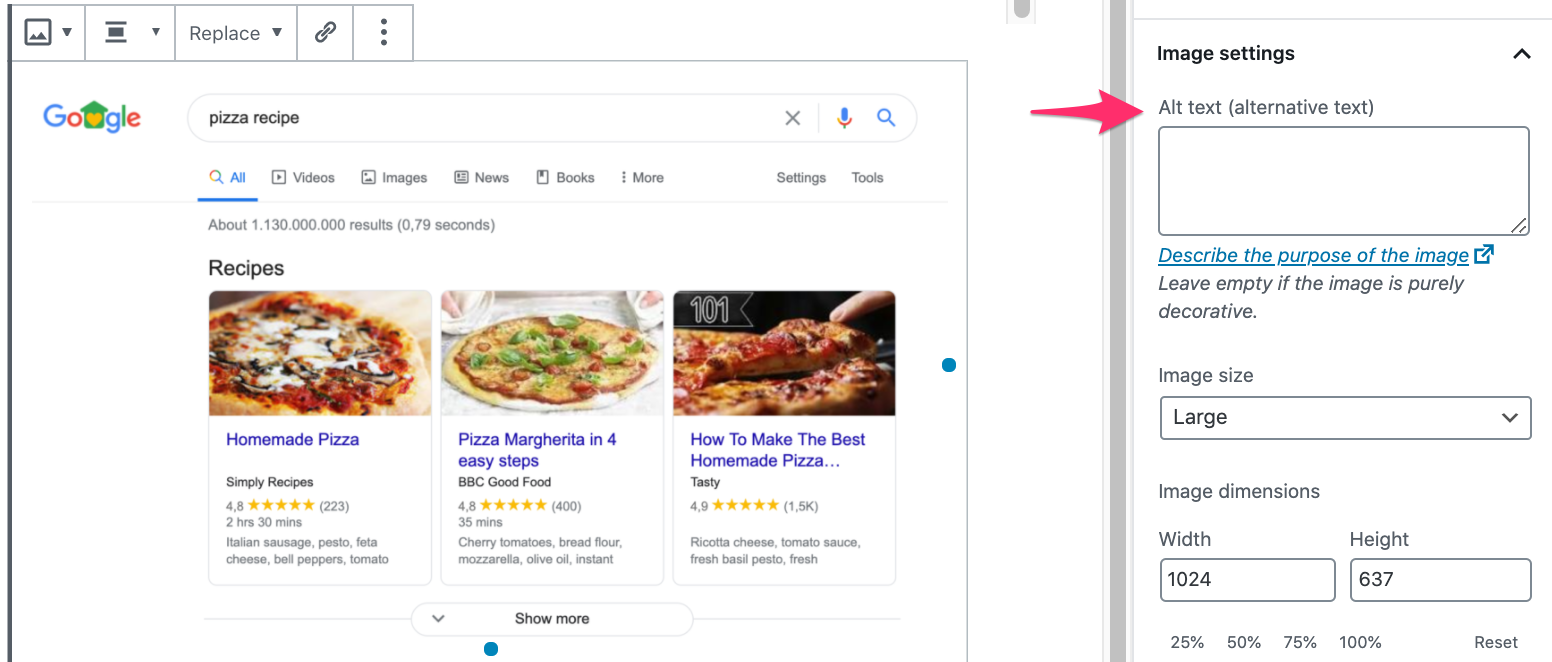 Also, you need to compress your images to improve page speed.
5. Link building
If you want to generate quality links, you need to create a link-building strategy. 
Backlinks help you become a trusted source, increase your brand awareness and drive referral traffic to your website.
Links from other websites show Google that people are recommending your content. They're one of the most important ranking factors, but getting high-quality backlinks is not always easy. 
Most link-building tactics involve creating link-worthy content, then reaching out to website editors to add your link to their pages. But there are other ways to get links.
6. Guest blogging
Guest blogging is where you write a blog post for another website. In turn, they allow including one or two links to your site in the content or author bio. You can find potential guest blogging opportunities with Ahrefs Content Explorer. Here you can see the websites that get the most traffic to pages about your topic.
Because these websites have written about this topic before, they might be open to a guest post about a similar topic. You can email them and ask. 
7. Internal linking 
Besides helping to navigate information on your website, internal links pass authority between pages and improve rankings. If a page has authoritative external links pointing to it, it will build up a PageRank score. This authority can then be passed to another page through internal links.
Internal linking needs to be monitored constantly. Here is SEMrush's guide on how to create internal linking.
8. URL structure
Google says, "A site's URL structure should be as simple as possible. Consider organizing your content so that URLs are constructed logically and in a manner that is most intelligible to humans (when possible, readable words rather than long ID numbers)."
A good URL structure informs both users and search engines about what the destination page is about. Short URLs generally outperform long URLs in SERPs. Also, including target keywords in URLs increases the chances of ranking better in search results. 
9. Improve Your Site Speed
You need to improve your site speed if you don't want a poor user experience. Nobody has time to wait around for a slow site. 
Google confirmed an upcoming Google Page Experience update for 2021. It seems that user experience will become more important as a ranking factor.
You can gain more insights about slow-loading pages using Google's PageSpeed Insights tool.
Conclusion
SEO is about creating the type of content your audience is looking for and optimizing it so that your page can rank higher in search engines.
It is important to measure and track the performance of your efforts. Track the amount of traffic your website gets from organic search. See what impact your SEO efforts are having on conversions. Measuring SEO success improves your strategy further to reach success. 
At Response DGA, we create a digital growth marketing strategy that is not only innovative and market-leading but, most importantly, delivers commercial success. Would you like to discuss a full-funnel digital growth campaign?