5 Email Marketing Techniques for Better Lead Generation
Lead generation collects information on potential customers, such as their name and email address. Email lead generation is a way of collecting leads through an email opt-in form. However, an email lead generation strategy is much more than just a lead capture form. It also involves nurturing leads to transform them into customers eventually. An email lead generation strategy is vital to grow your customer base and generate more sales. It also helps you target desired customers and increase brand awareness.
"Research shows that over 48% of marketers believe that email marketing is the most effective strategy for generating leads online." (Keap)
Here is how you can nurture your audience and guide them to the ultimate conversion through email marketing.
5 Email Marketing Techniques for Better Lead Generation
1. Clean and simple design
When it comes to lead generation, your email design matters, a simple and clean email template will generate more leads. 
It would be best to make your email subject lines personal, relevant, and interesting. When you promise something in the subject line, make sure to deliver on that promise. Tailor your subject line to your reader's interests and desires.
"The only thing standing between your well-crafted email and your subscribers is a great subject line." (Mailerlite)
You shouldn't overwhelm your customers with heavy text copy. Use simple and clear copy with plain fonts. You can make your email content more digestible by highlighting the most important information or using bullet points to cut paragraphs. 
Every email needs to have a compelling call-to-action. Your CTA button must be attention-grabbing and easy to click on. If your CTA button text is too vague or confusing, you can lose them. You can compel the readers to click with action words like "Join us," "Learn More," Try for Free," and so on.
In their welcome email, Handy shows multiple CTAs organized really well. Your eyes start at the top and follow the CTA buttons' flow down.
2. Lead scoring
Lead scoring helps you predict which of your leads are more likely to become customers. Leads at the bottom of your sales funnel have the highest priority. The most important thing in marketing is to reach the right person with the right message at the right time. Lead scoring allows you to do that by ensuring that you capture higher-quality prospects.
If a potential customer has already checked a product on your website, it is more likely that they'll convert with an email offering them a 10% discount on that product.
If you don't have the visitor on your list, you can use exit-intent pop-ups to get them to sign up. You can collect information from a visitor after reading your blog post or watching a video on your page. Set up your website to automatically trigger an exit intent pop-up box at this point. This is a good strategy as pop-up windows create a sense of urgency.
3. Email automation
Leveraging email automation helps you automatically send your emails to the right email segments at the right time by using email software. Email automation comes with automatic personalization, which makes your email campaigns better. You can use specific triggers to send the right emails to the right people at the right time. Potential triggers can be registering for a webinar or buying one of your products.
This can also help you sort and prioritize your leads, making it one of the most effective tactics for lead generation.
4. Referrals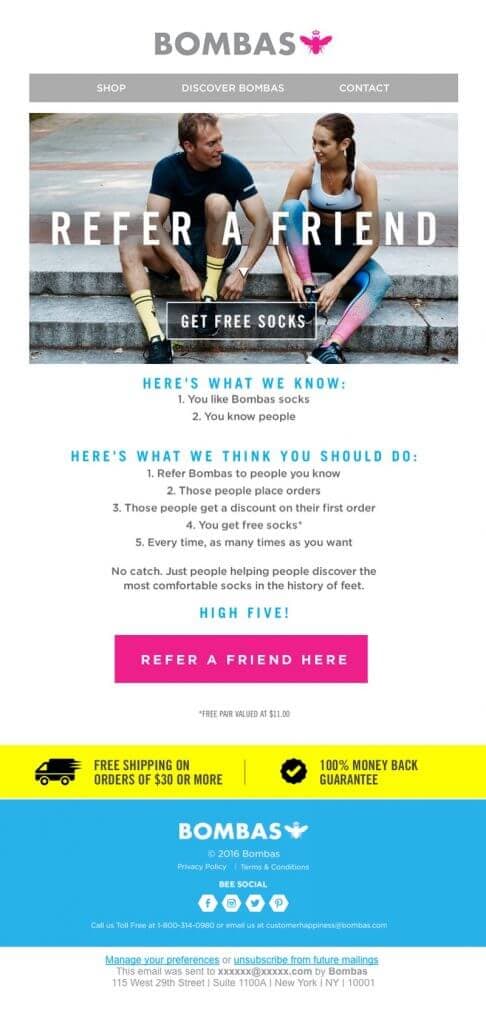 You can offer compelling rewards to incentivize your current subscribers to refer their friends and family to your email list. The reward can be free products or a discount for a future purchase. Ensure your reward is worth it so that your subscribers will promote your list to their family and friends. 
5. Valuable content
Providing valuable content is an essential factor in effective email marketing. You need to send educational, interesting, relevant, and targeted content to keep your subscribers engaged. Find your audience's pain points and focus on how you can help them with your content. They are more likely to open your email if you consistently deliver valuable and relevant content to them.
Email newsletters are great for sharing high-quality content with your leads. You'll build stronger relationships with them which will ultimately lead to conversions.
Creating gated content is another way to boost email lead generation for better conversions. Gated content means providing a piece of content for the lead in exchange for their information.  Gated content can be an eBook, blog post, or video.
Emails arrive directly in customers' inboxes, which makes it a unique type of messaging. Email marketing gives you a great opportunity to personalize content, build lasting relationships with your leads, and convert them into customers.
At Response DGA, we create a digital growth marketing strategy that is not only innovative and market-leading but, most importantly, delivers commercial success. Would you like to discuss a full-funnel digital growth campaign?