Why Should Marketers Repurpose Content?
Content repurposing or content recycling is reusing existing content and presenting it in a new format to expand its reach and lifetime. Repurposing content can involve changing your content's entire purpose and transforming it into another type of content. For example, you can transform a top-performing blog post into a podcast, email newsletter, YouTube video, or eBook.
"With a blog post, you can repurpose it by creating a video, an infographic, a slide, a social media post, and much more. Don't just write a blog post. Repurpose it!"
Jonathan Aufray, Growth Hackers
How repurposing content helps your SEO
You can also boost your SEO by repurposing content. When you have a lot of content focusing on similar targeted keywords, search engine crawlers will see you as a source of authority. 
If you have blog content that brings you high traffic, you can transform it into video content or SlideShare. As you keep providing valuable content in multiple different formats, you will have more opportunities to show up in search engines and social feeds. In the end, you will increase your organic traffic with minimal investment of time and money. 
How can you repurpose your content?
YouTube video
Some people prefer watching short-form videos to reading a 1,000-word blog post. You can always convert your eBooks and blog posts into videos with engaging visuals on YouTube to reach that audience. You can segment a long blog post into shorter video pieces that you can publish as a series.
eBooks
eBooks provide educational value to your target audience. They are like blog posts; only they take a deeper dive into the subject. If you have various blog posts on a specific topic, you can gather them and create a comprehensive eBook guide.
Podcasts
Podcasts have become popular in recent years. They help you become an expert in your niche. People listen to you when they're looking for solutions to their problems.
If you have high-quality blog posts, you have an amazing opportunity to convert your heavy text pieces into a podcast. You can turn texts into podcasts by recording them as audio.  Another option is to invite thought leaders for further discussions on the topic. Here is a guide on how you can start a podcast.
Infographics
According to Social Media Today, infographics get 12% more traffic and 200% more shares than posts without images. You can convert your educational content, data, or insights to attractive infographics and social media posts. 
Email newsletters
Email newsletters help you deliver interesting and valuable content to your audience consistently. You can transform your top blog posts into email newsletters. You can add relevant links and examples to direct them to your website for more content.
SlideShare
You can simply turn your blog post into a presentation form with SlideShare. They are easy to share and easy to digest as they provide quick information with interesting graphic elements.
Thought leadership quotes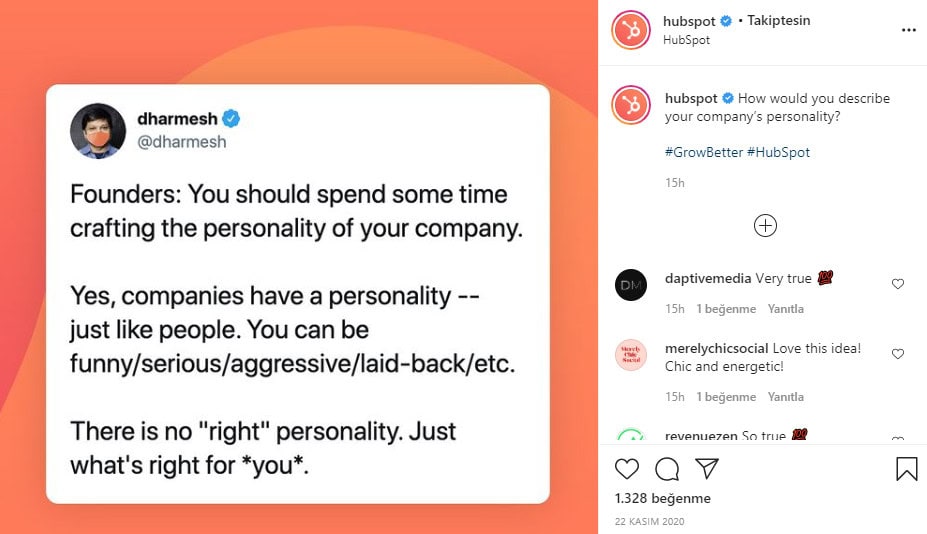 If some thought leaders contributed to your content pieces before, you could transform their heavy text quotes into social media posts. HubSpot frequently uses quotes and insights from experts on their social media. You can also use them as snippets in your email newsletters.
Repurposing content helps content marketers save time and money. Look at your metrics and take note of what has performed well. Think about how you can provide value to different target audiences with the same content in different formats. If you do it right, you can get a wider audience for the content you worked so hard to create before.
What are you waiting for? Try out the techniques above to make the most of your content. 
At Response DGA, we create a digital growth marketing strategy that is not only innovative and market-leading but, most importantly, delivers commercial success. Would you like to discuss a full-funnel digital growth campaign?