What is Growth Marketing and How Does it Actually Work?
Growth Marketing is basically building individualized messaging and content that are aligned with the customer needs by creating a unique approach to attracting, engaging, and retaining customers. Also, it is a process of designing and conducting high complexity experiments such as A/B and multivariate testing to improve the results of those approaches by defining the channels that are mostly where the customers are. Those experiments also have an important role since customer needs and motives are shifting rapidly and become difficult to understand. By obtaining and analyzing the results of those experiments will help growth hackers to develop more efficient strategies.
Growth hackers must be data-driven by using their technical skills to create unique solutions to solve defined problems. It gives them to understand the process and situation of growth strategies with metrics and solid data. They are educated briefly and have expertise in some marketing assets. At the same time, they have a basic understanding of every necessary concept of marketing such as content marketing, SEO, social media management, etc. This gives them the ability to understand each part of the marketing strategy generally and at which part they can give a contribution with their expertise area.
Fundamentals of Growth Marketing
As you can see from the funnel below, growth marketing is focused deeper into the funnel than traditional marketing. It is being active in every part of the funnel and getting benefits from those to bring ideas and solutions.
Awareness
The awareness phase is where you start building and explaining your brand and solutions to potential customers. Before creating any relationship, you need to understand who you will be connecting with. Also, you need to develop content that is relevant to your audience and relates to the context of their needs. Start building awareness of your business in places where your prospects already are could be a good starting point to be exposed by your content.
Your visitors will have different levels of goals to overcome their challenges and accomplish them. You will need to understand what their approach and behaviors through the buyer's journey look like, from awareness of the problem to consideration of the potential solutions and to make decisions. Building buyer personas helps you to gain deeper insight into who they are as a person and what their goals are personally and professionally. This part is basically creating empathy with them. From there, you start to gain their trust by creating the content that best aligns.
Acquisition
Acquisition is the process of generating leads and acquiring new customers. Customer acquisition channels are methods, platforms, and strategies through which companies attract new fans, readers, and leads. You should be trying to figure out where your ideal audience is. Those can be through blogs, content offers, videos, social media, search engine optimizations, etc. The best channels for your business will depend on your audience, resources, and overall strategy. A growth hacker, for example, might try to increase the number of form submissions by experimenting on the messaging, the call-to-action button, or the page orientation.
Activation
Activation is getting how many people use the product or service. Once you have got your customers into an activation phase, you can start to measure user experience that is optimized for them. You might want to look at different ways to ensure what happens by experimenting on how your prospects think about your product. There are four different ways to improve your activation rate by increasing user motivation.
Create better user onboarding with building excitement.
Reduce effort by breaking up difficult tasks
Encourage users with visible progress
Use customer feedback to redesign the path to activation
Retention
In the Retention part, the main focus is to keep your customers active and satisfied with their experience. To improve retention you can offer personalized support or boost the value of your product for your customers. Those personalization strategies will help users to discover different values from the product. Since your loyal customers will convert and spend more than new ones, therefore you should also focus on their needs and what they are enjoying from your product or not so it will decrease the customer churn. For example, you can send an email that includes information about what you're missing out on after a couple of days your customer started to use your product or you can create custom audiences for your email listings.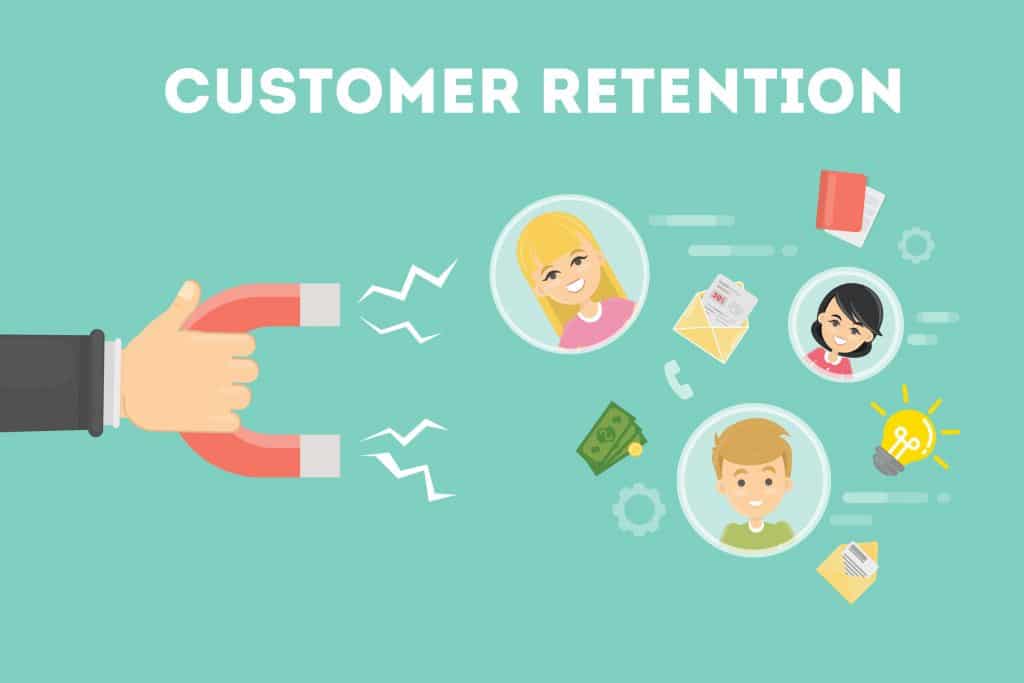 Revenue
You can consider the revenue as a result of your efforts. Basically, revenue includes every action that makes your company money. For example, that can be with selling a specific product, signing a contract for your services, or upgrading customers' current product or service. Revenue is an absolute requirement for continuing your business. Increasing your revenue could be beneficial to improve your services and get better results.
Growth hackers can analyze revenue-related metrics by checking pricing strategy regarding competition while conducting some experiments on it. They can also try some upsell strategies; for example, they can offer value-added services to customers to retrieve more revenue with a chance to increase customer satisfaction.
You can also increase your revenue by reducing churn rates and increase your current customer's lifetime value. Finding new solutions and creating new additional services for your customers can be also helpful to increase your revenue since their needs can be shifted over time.
Referral
Spending your energy, resource, and effort to keep your customer satisfied has a key role but at the same time, you would want to recommend those customers to their friends. Consumers trust recommendations from friends and family more than any other source of advertising, so a strong referral can serve as a powerful tool for engaging new users.
Nowadays most companies are using Net Promoter Score because it is the easiest way to predict referrals. All you have to do is ask people one simple question, ''How likely are you to refer this [product/company] to a friend or colleague?''. You also give them a scale of one to ten and measure their satisfaction based on their total point.
Promoters (score 9-10): These are the people who will recommend you to others about your product.
Passives (score 7-8): These people are fine with your product but would switch to another if they see better alternatives.
Detractors (score 0-6): These are the unhappy people who will not only churn soon but will also give negative feedback about your product.
Your main goal should be here to track the numbers of the topics that you want to focus on first. At the same time, you should try to communicate with the Detractors about their unhappiness and create a solution for them to prevent giving negative feedback about your product.
What is next?
You might think you have done every step about growth marketing strategies but it is not just finishing here. Improving your product is what you should do every single day to keep it always up-to-date with the insights of those strategies. That means just don't stop and wait after implementing those because customer needs and competition never stops. That is why you should always be one step ahead at a time. In the end, make sure you follow these eight steps to improve your growth marketing strategies better:
Be certain that you create a product that your customers will be needed
Target your market truly
Pick the right growth marketing model
Keep active your customers with the perfect first impression
Retain your customers by approaching with different channels
Predict and calculate your potential referrals
Keep improving your product
Why Response DGA?
At Response DGA, we help big firms build a solid 360-degree Digital Customer Acquisition Strategy. We do that by making sure that we cover the entire customer journey all the way from awareness to purchase, including follow-ups, cross-sells, and up-sells. We plan a full-funnel digital marketing strategy that puts Research, Content, Advertising, Direct Mail, Social Media, CRM, and Automation at the heart of each growth campaign.
In addition, we offer a remarkable talent of a multilingual and multicultural team of professionals that currently manages more than 20,000 growth-based campaigns for over 50 multinationals worldwide at highly competitive prices. Last but not least, it is in our best interest to establish a long-term relationship and contract, and offering satisfying results is the best way to achieve these. Therefore, we have the motivation to push towards optimal results for your business in the long run.
At Response DGA, our team is aligned to deliver success to our clients. We pride ourselves on the work that we produce for our great clients. But, we don't just want you to take our word for it, check out some of our client case studies.