What is Account Based Marketing? How to Execute ABM?
Account Based Marketing (ABM, Account Based Marketing) is a focused growth strategy in which sales and marketing experts collaborate to provide maximum benefit to marketing customers for mutually determined high-value accounts. For example, a company with B2B operations can create individual company profiles for potential customers and implement marketing tactics and sales practices accordingly. After you list the companies with the potential to buy and find out which issues they have difficulties, you can come forward with the services you offer to these problems.
Account Based Marketing allows your sales team to work with the marketing team, to grow in the long term, delight customers, and to increase revenue.
Once you have decided to implement the ABM strategy, one of the factors to consider is which type of ABM will be more effective and beneficial for you.
There are 3 types of ABM according to ITSMA. These are Strategic ABM, ABM Lite, and Programmatic ABM.
Strategic ABM (One-to-One)
ITSMA defines Strategic ABM as creating and executing highly customized marketing plans for individual accounts. With Strategic ABM, a dedicated senior marketing professional is responsible for drafting customized marketing plans for each account required for the entire program.
ABM Lite (One-to-Few)
It is defined as creating and running lightly customized programs for sets of accounts with similar problems and needs. The method requires collaboration between sales and marketing teams at vital decision points, such as which accounts to target, which business issues to highlight, what recommendations should be considered, and how existing content is carefully adapted.
Programmatic ABM (One-to-Many)
It uses technology to tailor its marketing campaigns to specific accounts at scale using targeting, analytics, and customization across multiple accounts, but it needs to be aligned with the sales activities in the company and focuses on a specific segment.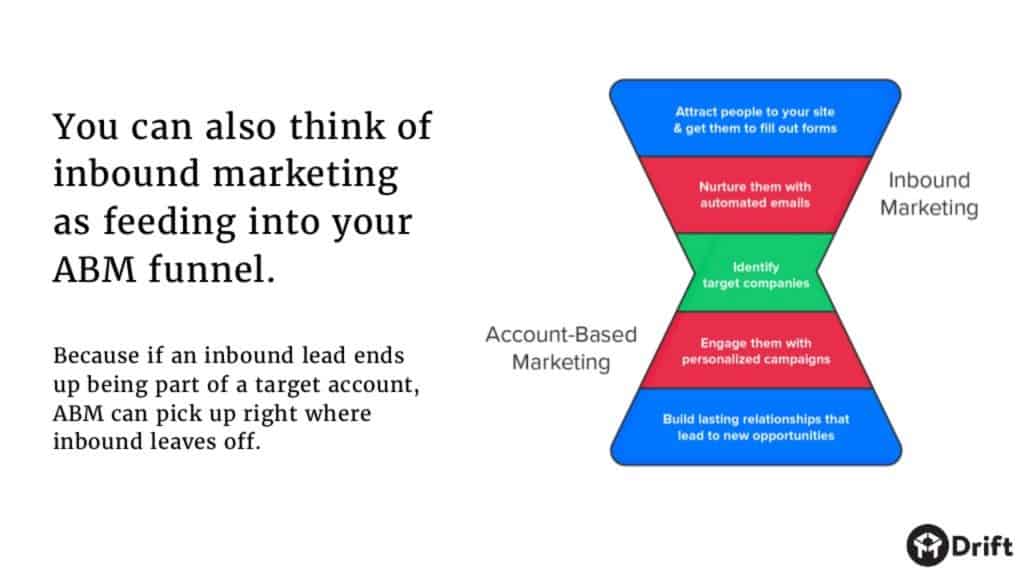 Benefits of Account Based Marketing:
Account Based Marketing provides many benefits especially for B2B companies.
It guarantees that the deals and showcasing groups center around the objective in a planned way. Along these lines, since the interdepartmental data trade is exceptional, the necessities of the client are addressed accurately and viably. It causes you to use advertising projects to address the issues of clients. In this way, it permits you to make various qualities for every client.
It allows you to realize a customer-oriented sales experience. In this way, the customer feels privileged and realizes that they are valued starting from the sales process. Helps you increase high-performance return on investment (ROI). In addition, you can better measure, analyze, and get feedback on the success of the activities you do for your customers as a result of the reporting.
Stages of Account Based Marketing:
Focus on the profiles and companies that are right for you.
Find the right people quickly and easily
Get advice on potential customers to communicate
Reach more people with your accounts
Stay informed about important updates on your target accounts.
Stay up to date on the accounts, companies, profiles you are interested in
Follow the developments in the accounts you are interested in
Get to know your potential customer by doing research
Build trust with your potential customers.
Connect and interact with potential and existing customers
Build your professional reputation
Reach potential customers outside of your network
How Do You Define Target Accounts?
Before setting up your ABM Strategy, identify your most successful segments and target companies in these segments. & nbsp; In this segmentation, there should be companies that are most likely to buy your products. Define the industry, company size, annual revenue, up-sell opportunity, cross-sell opportunity, profit margin. After determining all these, create a starting list and save and track the top 100 companies you target.
Make use of your existing accounts while creating your target list. Identify the DNA of your ideal customer. Identify and target your customers' competitors. Identify the accounts visiting your site. Actively use the Google Alerts feature to learn about new leads.
Interacting with all social media accounts of these companies allows you to have more data that you can use in sales and marketing.