7 Best Marketing Dashboard Examples & Templates
A Marketing Dashboard is a data visualization tool that helps marketing teams understand the impact of their marketing efforts. A full-funnel marketing approach requires a marketing dashboard that gives the whole picture of every stage of the customer lifecycle. Here are 7 marketing dashboard examples and templates that cover a variety of key metrics.
1. Marketing Performance Dashboard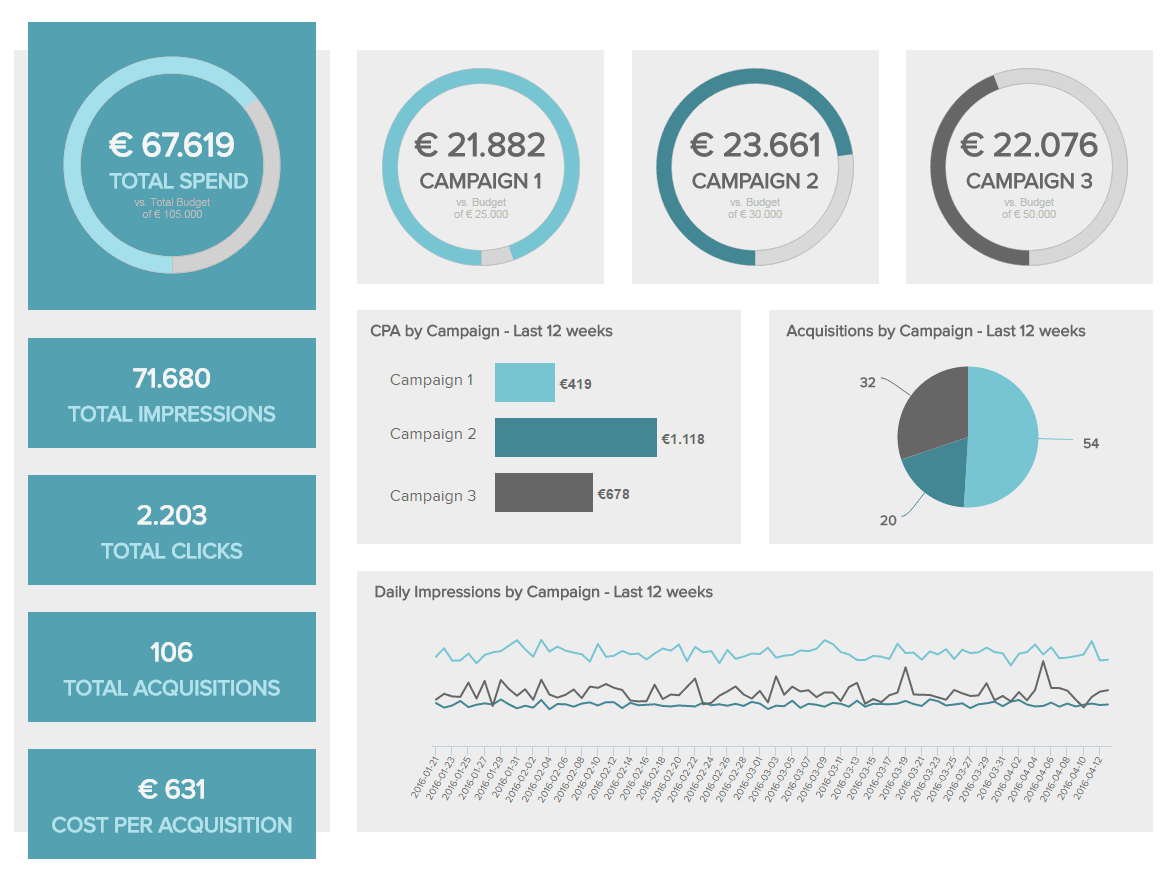 Marketing Performance Dashboard tracks metrics such as leads, visits, and conversion rates through real value. Based on that, you can measure the success of your campaigns.
You can see the total number of impressions, clicks, acquisitions, and costs. This enables you to interact with each part of your marketing performance data and generate valuable insights.
As a result, you can decide where to put your money to be able to maximize all your results.
2. SEO Analytics Dashboard
For a successful long-term marketing strategy, you need a solid SEO strategy.
SEO Analytics Dashboard helps you measure your SEO performance through different metrics. You can track the success of your website on organic search engine result pages. It also tracks the number of indexed pages, backlinks, and keywords on the page. 
You should include organic landing pages, organic keywords, organic sessions, and organic conversion KPIs in your SEO Analytics dashboard.
3. Social Media Marketing Dashboard
Marketers often need to view analytics and data directly on social media platforms to see the social media traffic. However, what you need is a single dashboard that pulls all the info from every social media platform.
Social Media Marketing Dashboard helps you track social media analytics and provide an overview of performance and engagement on social media. The metrics and KPIs include social interactions, traffic sources and goal completion rate.
You can see the interaction between social performance and website performance. This helps you gauge the success of your social media campaigns.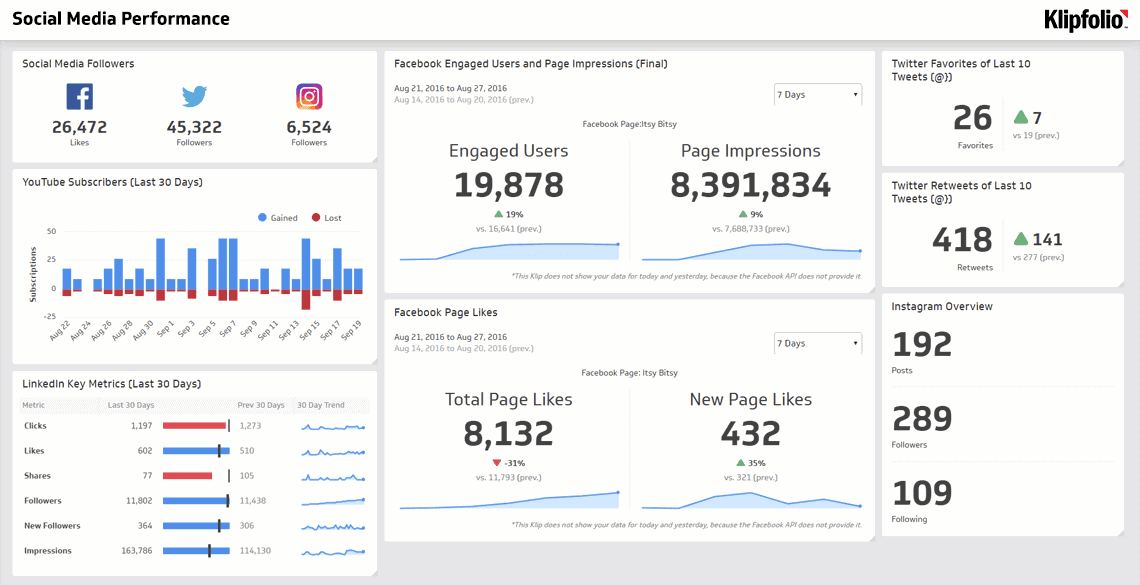 4. Google Analytics Dashboard
Google Analytics Dashboard can be imported into other dashboards. It gives you an opportunity to access KPIs for quick evaluation of success and change tactics where needed. Analyzing the data from your Google Analytics dashboard shows you whether you're on track for reaching your goals.
You can track KPIs like bounce rate, session duration, interactions, channel performance, source and overall traffic in one place.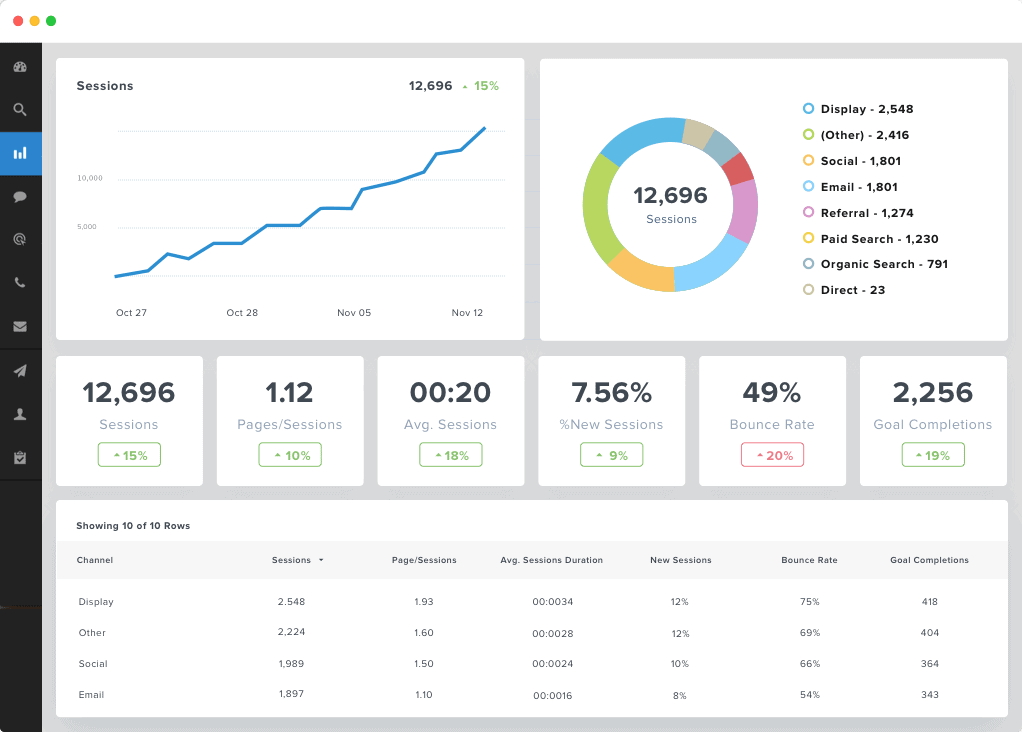 5. Email Marketing Dashboard
Email Marketing Dashboard provides the key metrics that demonstrate the ROI and performance of your email campaigns. You can always tweak and improve your campaigns as you see the metrics in real-time. 
This dashboard collects data such as bounces, new subscribers, open rates, and click-through rates in one place. 
You can understand if your audience opened your email or if there are any conversions from the emails. In that way, you'll better understand the overall success of your email marketing campaigns.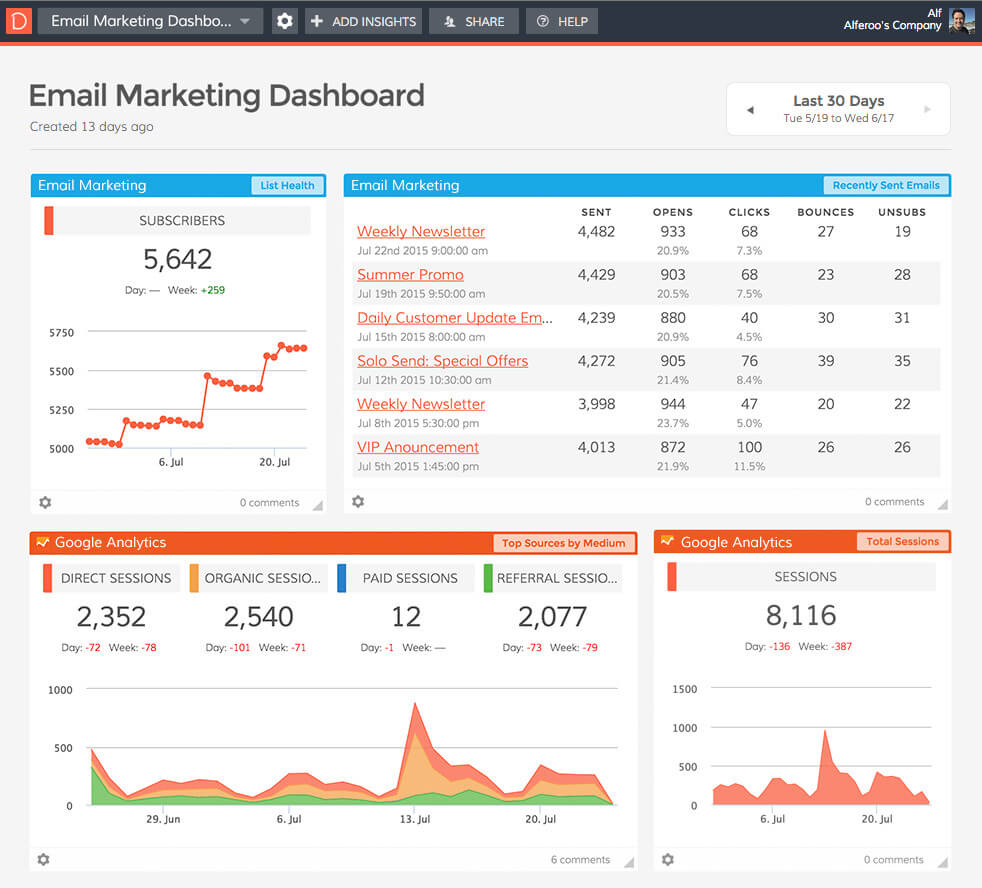 6. PPC Marketing Dashboard
PPC Marketing Dashboard helps you track the short-term results of your pay-per-click campaigns. Most probably you use Google AdWords, Facebook Ads or SEMrush to track the success of your PPC campaigns.
Thanks to PPC Marketing Dashboard, you can track them all in one place.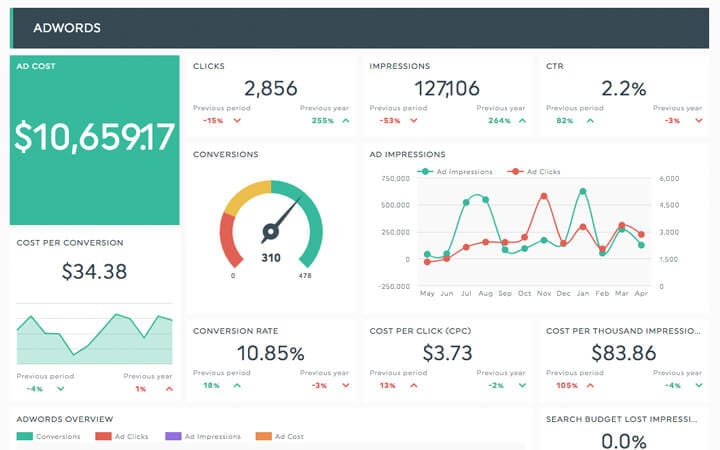 7. Web Analytics Dashboard
Web Analytics Dashboard lets you monitor website performance in regards to your marketing objectives in real-time.
You can track metrics such as bounce rate, page views, visitors, conversions, referral traffic, new visitors and traffic sources and other KPIs that show customer interactions with the website.
Digital marketing dashboards that can track your key metrics and KPIs are essential for your organization. They give you a great opportunity to organize your data and save both time and money.
At Response DGA, we create a digital growth marketing strategy that is not only innovative and market-leading but, most importantly, delivers commercial success. Would you like to discuss a full-funnel digital growth campaign?